reminds you to take your medication up to for times a day. Simple press of a button deactivates alarm when you have taken your pills. The pillbox is small (4 x 10 cm) and discreet with adjustable compartments.
The product is marked.




Click on the picture



You need Acrobat Reader to view and print a PDF file . If you do not have the software on your computer, you can download it free at Adobe.

shows the time and indicates number of dosage times selected per day. If a dosage is missed, the display shows one or more crossed number and "MISSED PILL" twinkles to remind the patient and/or caregiver.

for setting hour - minute - alarms. The alarms can all be set at one time and the settings can be locked.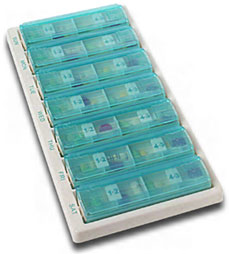 Seven separate pillboxes in a tray stores the weekly medications.
| | |
| --- | --- |
| in the container can be adjusted for the quantities of tablets. Four spacious compartments make it easy to put in and take out the pills. | |